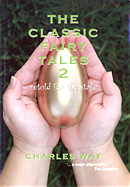 A comedy for all the family that blends the Brothers Grimm folk tale with elements of A Midsummer Night's Dream.
Synopsis
Once upon a time there was a boy called Dummling and everyone believed he was stupid just because of his name. He lived in a poor cottage in the woods with his mother and brother. One day he meets an old man in the woods and shares his humble supper with him. The man, is in fact the King of the fairies and a direct descendant of Oberon. He and his Queen, Titania need to get a worthy and humane king on the throne of the blighted land in which they live, a king who will save the forest in which the fairies live from destruction. The Fairy King gives Dummling good luck in the form of a magical golden goose. When he takes it home his mother and brother try to take it from him but once they touch the goose they find they cannot let go and what's more they find that they cannot stop running. Run they must and run they do all the way to the palace where, as it chances there resides the very mirror of their own family – but posh. The King Conrad has two daughters, Dajona who won't laugh and Birgit who won't stop. The King has sent out a proclamation that whoever makes his daughter laugh can have her hand in marriage, and thus be in line for the throne. When Dajona sees the Golden Goose and the people stuck to it, running for all they are worth she burst out laughing. The King is thrilled until he discovers that the boy who made her laugh is called Dummling and is a peasant. He sends Dummling on two ridiculous quests but Dummling, with the help of the fairy kingdom succeeds in fulfilling both and thus – eventually becomes King thus completing a bloodless revolution-ship and saving the Fairy Kingdom. The End.
Cast size
8 (4M 4F)
Characters
Dummling
Boris
Christina / Humble
Dajona
Birgit / Humble in Scene 1
King Conrad / Meek
Fairy King / Hermit Seibenstien
Fairy Queen / White Witch
Reviews
'A colourfully embroided mixture of folklore and fantasy.'
The Independent
'Charles Way transforms A Midsummer Night's Dream into a lively and magical mid-winter adventure. Way directs his own script with great aplomb. 4 Stars.' The Guardian
Production history
Commissioned and first produced at the Library Theatre, Manchester, directed by the author. Music by Richard Taylor, Movement by Georgina Lamb, Design by Jamie Varten, Lighting by Nick Rithings.
The Golden Goose is published by Aurora Metro Press in The Classic Fairytales 2 Retold for the Stage (together with The Tinderbox and Sinbad – The Untold Tale). ISBN 978-0-9551566-7-0
Suitable for the whole family.