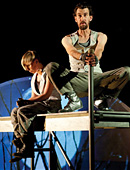 A play with music which tells a magical tale about love and the way people come together despite seemingly impossible odds.
Synopsis
Ill Met by Moonlight is a play with songs that has been described as a 'supernatural rom-com' which is about right. Set on the border between England and Wales it tells of the troubled romance between two lonely country people Samuel Jenkins, a Welsh hill farmer, and Mary Morris, an English widow. The play is inspired by Shakespeare's 'A Midsummer Nights Dream' and begins when the very last of the fairy race – Gwarwyn-a-throt, (a descendent of Puck) – begins to meddle once more in human affairs, with hilarious if sometimes cruel consequences. The play is a poignant elegy for a British rural culture that is all but dead, but it also acts as a metaphor for the importance of all cultures that need defending. Gwarwyn is the last of his kind, but he's not going without a fight.
Cast
2M / 2F
Characters
Mary Morris
Hedydd
Samuel Jenkins
Gwarwyn-a-throt
Reviews
'A script of great beauty and skill, a passionate tale of love and magic.' The Guardian, 1994
'Under the direction of Kevin Lewis the play seems even stronger, more dramatic, less whimsical, more unashamedly about love.' Western Mail, 2001.
'Beautifully written and directed with skill by Charles Way, the play brought both laughter and tears.' South Wales Argus, 2010.
Production history
Commissioned by Hijinx Theatre and first toured in 1994 and again in 2001, Ill Met by Moonlight received outstanding audience and critical response. The 1994 production helped Hijinx earn the BBC Wales Arts Award for Company of the Year. In 2010 the play was directed by the author for a third tour of Wales, England and Scotland.
Written for professional small/midscale touring to community theatre venues, as well as theatres. Although it deals with adult themes and relationships, the play is suitable for all ages except the very young.