The Iron Ring is a play for all the family, a large scale piece of total theatre involving dance, music and epic storytelling. Adapted from the book by Lloyd Alexander it opened to rave reviews at the Minneapolis Children's Theatre Company in March 2010.
Synopsis
The play tells the story of Tamar, an ancient Hindu king who, having lost his life in a game of dice, is pledged to travel to the Snow Mountains to pay his debt. On his long journey he meets an hilarious array of talking animals; falls in love, gets involved in a war; and finally as a member of the lowest caste in India discovers who he is and the true meaning of kingship.
Cast size
The original production had eight actors and five dancers. The play is therefore suitable for schools and youth theatres as well as professional performance.
Reviews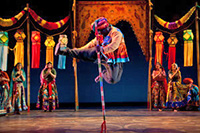 'The name Iron Ring suggest something heavy and constricting. But though thematically dark by the standards of the Children's theatre in Minneapolis, where 'Iron Ring' had its triumphant premier, it is a shining play. A many faceted gem.' Rohan Preston, Star Tribune
'Dance, meshing seamlessly with the drama contributes to an overall visual brilliance.' Quinton Skinner, Pioneer Press
'A thrilling Indian epic of daring adventure and deep humanity.' Asian American Press
Production history
First produced by the Minneapolis Children's Theatre Company. Directed by Peter Brosius. Choreography by Ranee Ramaswamy and Ragamala Dance Theatre.
Suitable for all the family.