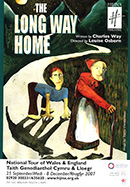 A collection of folk tales wrapped up in one overarching story. It contains song and opportunities for movement and puppetry.
Synopsis
On the day Old Mother's husband dies, she decides to walk back home to the seaside village where she was born. A journey that will take her through the forests across the plains over the mountains to the coast. Old mother is one of those women you will have seen in Greece on holiday, wearing black and with a knotted headscarf – possibly walking beside a donkey up into the hills. On her way through the forest she discovers a lost boy who cannot speak and who has apparently been brought up as a animal. Her basic humanity compels her to try and look after him and thus they begin the epic journey together encountering; grieving widows, jealous farmers and bandits as they struggle toward their final destination.
Characters
Andreas
Old Mother
Male story teller (plays all other male roles in the play)
Female story teller (plays all other female roles in the play)
Reviews
'Through acting, story-telling humour and music the four strong cast takes us on an enthralling journey in a production that is utterly captivating.'
'A remarkable creation from Charles Way.' The Stage, April 2004 (Caroline Morris)
Production history
The Long Way Home was commissioned by the CIAO International Theatre Festival. Companies from all over Europe participated and The Long Way Home was the British offering. The only marker I was given was that the play should touch upon European themes. Since its first production by New Perspectives Theatre, the play has been produced in Croatia, Germany Switzerland and Wales.