Missing (Looking For Grethel)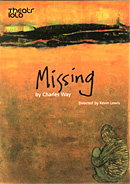 A play inspired by true events and folk tales.
Synopsis
Missing is a gripping story of a brother desperately searching for his missing sister in a sinister world of deceit and unknown peril. It is a modern day fairytale about two poor children surviving desperate circumstances through a rich mix of imaginative power, loyalty, love and sheer cunning.
When asked, what the inspiration was behind the play, Charles Way said:
"Consol Theater in Gelsenkirchen, Germany were performing one of my plays, Red Red Shoes at a festival in Berlin and I was very impressed by the quality of the production which won several awards. The director, Andrea Kramer felt the play gave a director 'room to move' – and would be interested in working with me on a new project. She spoke of her desire to address the issue of 'poverty' since there is a great deal of 'poverty' in the district where her theatre is. A region, not unlike parts of South Wales with a collapsed mining industry.
"I returned to Britain, and began to think of stories I knew about poverty, and 'Hansel and Grethel' came to mind. At the time, the tragic episode of Karen and Shannon Matthews was under discussion in the media and the family were described as 'the new poor'. I began to address, not the 'issue' of poverty but the 'question' of poverty. What is it in a country where almost everyone has their basic needs met? I then began to merge the story of Hansel and Grethel with several real life stories from across Europe where emotional poverty had led to dramatic incidents, and 'Missing' or 'Looking for Grethel' came into being. I wanted to write a text that allows a director 'room to move' – and as a consequence it is not written in the style of an ordinary play. The director and actors can decide who say which lines. The play has a storytelling quality but can be performed in a very physical way."
In December 2010, Charles Way was awarded the German Children's Theatre Award for Missing. Full story
here
.
Production history
Missing was co-commissioned by Theatr Iolo and Germany's Theater Consol in 2009.
Suitable for older children and teenagers.