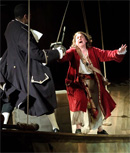 Pirates! is a play for children and their families. It was co-commissioned by two theatres, Imagination Stage in the US and The Polka Theatre in England and premiered in summer 2010. Both theatres are committed to producing new work for young audiences that is entertaining but also meaningful.
Pirates! is on one level a swash buckling adventure – but it is also about the emotions of a young boy coping with a turbulent family life.
Synopsis
Jim Watts is an ordinary kid – except that he is obsessed with all things piratical and his bedroom is full of ships, sea charts, and even an old treasure chest. One night, Jim is very upset. He has agreed to meet with his mother again after several years of estrangement, during which time she has kept in contact by letter. But the night before they are about to meet Jim learns that she is going to bring her 'new children' to the meeting, and Jim loses his temper 'big time'. In the middle of his tantrum he is kidnapped by a mysterious and dangerous pirate – a woman, Captain Freely, who emerges from the treasure chest in his bedroom and takes him back to the year 1718 and her pirate ship, The Horizon. But no sooner does he get used to life as a pirate than he discovers that the vengeful English naval Captain Mcgovern is chasing them. A full-scale sea battle ensues and Jim finds himself captured by the English Navy. But where do his loyalties now lie – and how can he get back to his bedroom in time to meet his mother?
Cast size
5 (4M/1F or 3M/2F).
Characters
Jim Watts
Captain Mcgovern
Captain Freely
Sneep
Harr
Reviews
"Beautifully written"

The Stage

"Seriously intelligent children's theatre that's also great fun. The domestic and the fantastical are ingeniously blended. Delightful."


Time Out (London) Critic's Choice (read the whole review here)

"Young audiences wholly spellbound by Way's adventure tale with its seafaring derring-do, enchanted treasure and glamorous female marauder."

Washington Post (read the whole review here)
Suitable for the whole family.