A personal biography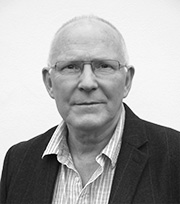 I have spent all my working life in the professional theatre and believe in its power to affect not only individual lives but also, and perhaps as a consequence of changing individuals, the very nature of our world.
Young people need theatre and all it can offer, both as participants and as audiences, more than ever. In the theatre one can reshape the world for a time and examine it from different points of view in a safe and socially cohesive environment.
I try to create work that does not preach, that examines the pressures under which we live through story and metaphor, that is fun, sometimes dangerous, but always I trust, humane and hopeful.
I was born in 1955 brought up in Devon and educated at Queen's College Taunton. In 1974, I auditioned to train as an actor at the Rose Bruford College of Speech and Drama, and during my time there I began to write plays for students to perform. It was from the college, via tutor Stuart Bennett, who is well known for his contribution to young people's theatre, that I received my first paid commission. In the autumn of 1977 I joined Leeds Playhouse Theatre in Education team as an actor. The group toured plays to schools, but before long I was offering my services to the company as a writer. A year later I moved to London and joined Theatre Centre as a very young resident writer. The company was hugely supportive and I was able to continue learning my craft by writing successive, if not always successful, plays.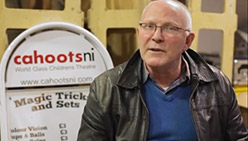 In the early 1980s I moved to Wales and began writing for Gwent Theatre – nearly thirty years later I still have strong connections with the company. In those days the team performed three shows a year for schools and one tour to community venues. Touring plays out of the back of a van felt, and still feels, very real and worthwhile to me – as if we are daily re-inventing the medieval theatrical tradition of travelling theatre. Shows were often devised by the actors and writer together, and in this way we created: She Scored for Wales, a rugby sex comedy based on Lysistrata; Bread and Roses, about the Spanish Civil War; In Living Memory, about the mining community at nearby Blaenavon. These productions were notable for me because, despite being rooted in a locality, they were well reviewed nationally and had repeat productions. This meant the possibility of earning a living as freelance playwright might not be so farfetched.
In my writing life I have had strong relationships with many theatres during a time when continuity of provision to communities was seen as important by funding bodies. In the mid-eighties I returned to Devon to become writer in residence at The Orchard Theatre – a company still greatly missed by the people of the west country. The company, based in Barnstaple, toured a huge area to packed village halls and small theatres and I was able to develop further my own theatrical voice, a narrative style which often included song. The most successful of these was Dead Man's Hat, a very personal play about the American West which, since my childhood, has had a strong hold on my imaginative life. The play became one of my first to be published (Seren Books) and has recently received a production in Dortmund. (An essay about this play appears in State of Play, 4 playwrights of Wales – Gomer Press.)
On returning to Wales I began an invigorating partnership with Hijinx Theatre, writing a sequence of plays that cemented my connection to the Welsh theatre scene. These included: In the Bleak Midwinter, The Dove Maiden and Ill Met by Moonlight. These, and other works, allowed me to explore my interest in myth, fable and rural culture. Such was my interest in our relationship to the land that I leapt at the chance to adapt Bruce Chatwin's On the Black Hill for the Made in Wales Stage company. Recently, I returned to the story and adapted it for two actors for AJTC theatre – the original production in 1985 had twelve.
As my working life progressed I began to be known better as a children's playwright. Although in my own mind I have never made a real division between writing for children and writing for adults, I have without doubt found great joy and inspiration by creating plays for children and young people. In the early nineties The Unicorn Theatre, then based near Leicester Square, commissioned The Flood, subsequently published by Collins. This became for some years my most produced work. Other plays for children followed including: A Spell of Cold Weather (Sherman Theatre); Playing from the Heart (Polka Theatre); One Snowy Night (Chichester) and, some years later, Red Red Shoes (Unicorn Theatre), a dance theatre piece about the Balkan Conflict which won the English Arts Council's Children's Award in 2004 (published by Aurora Metro Press).
In my mid thirties I began to write a sequence of plays for 'family audiences' – plays which adults and kids could watch together, that were not exploitative pantomimes but contained strong story lines and, I hope, real theatre magic. This began with Sleeping Beauty and The Borrowers at Polka Theatre and continued and gathered strength at the Library Theatre in Manchester, for whom I have written very 'physical' versions of three classic fairytales; Cinderella, The Golden Goose, and Beauty and The Beast. The latter was choreographed by Liam Steel and dance/movement has become an important part of my theatre language.
In recent years I have worked in Germany and America. In 2006 Consol Theatre in Gelsinkirchen, and Theatre Iolo in Cardiff commissioned a play about childhood poverty called Looking for Gretel (aka Missing). Well reviewed in Germany, but not reviewed at all in Wales, the play demands a very physical approach. From a writing point of view it is perhaps my most experimental piece to date – thus as I get older I don't seem to become more cautious.
In America I have written Merlin and the Cave of Dreams, a family play, for Imagination Stage, Washington which was nominated for a Helen Hayes Award for outstanding new play of 2004. The company are about to produce Pirates – A Boy At Sea which is a co-commission with the Polka Theatre in London. Further north, the Children's Theatre Company of Minneapolis produced a large-cast production of my adaptation of The Iron Ring, by Lloyd Alexander, in 2010.
All of the above work was written for professional actors, but some plays such as The Search For Odysseus (published by Longman) have become popular with youth theatres. In 2002 the National Theatre commissioned Alice in the News specifically for young children to perform and the play (published by Barrington Stoke) has had many outings in far-flung schools. Looking out to See (published by Seren Books) was written for teenagers to perform.
Alongside my writing I have directed a number of my own plays, including Independent People from the novel by Halldor Laxness and Dead Man's Hat (both for the New Perspectives theatre company). More recently, I directed The Tinderbox at the Gardiner Arts Centre in Brighton and The Golden Goose for the Library Theatre in Manchester.
My works for radio include: Funny Boys, On the Black Hill, and The Gate, a three part piece for Radio Wales. For television, I have written A Figure of Eight and No Borders, a film poem for BBC 2 set on the border of England and Wales – where I live.
Writers need champions, and I have been lucky to have had many. I would like to thank the following directors who have contributed so much to my professional life to date: Peter Yates, Gail McIntyre, Gary Meredith, Paul Chamberlain, Chris Wallis, Phil Clark, Gilly Adams, Bill Buffrey, Jamie Garven, Ros Hutt, Tony Graham, Gavin Stride, Sheryl Crown, Ian Yeoman, Roger Haines, Chris Honer, Kevin Lewis, Andy Brereton, Lou Osborne, Ian Forrest, Andrea Kramer, Geoff Bullen, Ivica Simic, Vicky Ireland, Janet Stanford, Mary Hall Surface, Peter Brosius.
Charles Way is a member of the Writer's Guild of Great Britain, the Welsh Academy of Authors and ACLS (Author's Licensing and Collection Society).