Key Reviews
Extracts from reviews of productions of Charles Way's plays. For some productions, a fuller version is provided on a separate page.
Jack and Phil, Slayers of Giants INC (Washington DC, US)
Charles Way's 'Jack and Phil, Slayers of Giants INC' received a great February 2016 first production in the US at Imagination Stage, directed by Janet Stanford. The play is suitable for family and school audiences.
"Five Stars! 'JACK and Phil, Slayers of Giants-INC' is a great new twist to an old story and is guaranteed family fun!"

DCMetroTheaterArts

"Four Stars! Fresh and funny… uniformly excellent! The classic tale benefits from the contemporary updating!"

DCTheatreScene

"Children and adults will get a lot of laughs, but they will also get a good time together. And that can be a giant task."

BroadwayWorld.com
Full reviews of this production are on this separate reviews page.
The Gift
Cahoots NI's Belfast production ran from 6-13 March 2015
'As the finest writers are shaped and influenced by their home place, so have Way's many award-winning plays reflected the rich cultural heritage from which they sprang. But The Gift is something entirely different, a play written by a master of the genre, who, while knowing his constituency so well, is yet willing to go out on a limb in pursuit of something new.'

Culture Northern Ireland, March 2015
Hard Times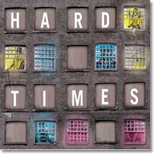 Some reviews of the hugely successful run of Way's adapation for the Library Theatre at Murrays Mills in 2012.
'What shines through is the quality of the adaptation…'

Manchester Confidential

'A stellar adaptation by Charles Way, moving thoughtful and wonderfully drawn.'

What's on Stage [*****]

'Charles Way's new adaptation uses no narration - it is so refreshing to see a Dicken's adaptation that isn't like having sections of the book read to you…'

The British Theatre Guide.

'It is a memorable theatrical experience. Charles Way's adaptation fluently conveys the humanity, the warmth and the bitterness of the original.'

The Arts Desk

'This dramatisation by Charles Way improves on Dickens' caricatures-Way gives real depth to characters who are only selfless simperers in the book. He replaces Dickens' sentimentality with warmth and his censoriousness with moral indignation.'

The Independent [*****]

'Imaginative and enjoyable-neatly filleted by playwright Charles Way with a fine eye for both the comic and dramatic possibilities of the novel.'

The Guardian [***]

'Charles Way's adaptation daringly restructures Dickens's plot, yet sticks to the motto of his lisping ringmaster Mr Sleary: "People mutht be amuthed."

' The Observer
Wanted! Robin Hood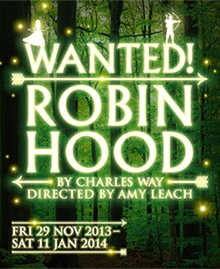 Review of the 6-week run at the Lowry Manchester. Wanted! Robin Hood was the last Christmas show at the Library Theatre before it became the new Theatre HOME.
'Charles Way's adaptation of the popular tale is a big hit with the older kids. This exciting show which demonstrates lust, passion hatred and some cracking fights-a unique show.'

Julia Taylor, Remote Goat [****]

'Thrilling action and crowd pleasing comedy.'

The Good Review [****]

'Every Year this fabulous company serves up a Christmas show that bridges the generation gap and ensures the whole family will leave feeling well and truly entertained. Charles Way's clever and pacy script certainly plays a part in this.'

Messenger Newspapers [****]

'Charles Way's adaptation is a compelling drama of moral reckoning.'

The Stage [****]

'Charles Way's script is beautifully crafted allowing director Amy Leach to bring together script and actors to form an evening of wonderful entertainment.'

What's on Stage [*****]

'Charles Way's brand new script is definitely Wanted! A very clear plot and through story kept the children's attention.'

The Public Reviews [****]
Nivelli's War

Extracts from reviews of the production by Cahoots NI directed by Paul Boscoe McEneany, which opened in February 2014 in Armagh and then went on tour.
'Nivelli's War … whisks you away completely, with a sparse set, the use of smoke, a single red balloon and a make-shift cart the audience is transported back to Second World War Germany, where fathers are absent and children are shipped off to the countryside. … Nivelli's War is a very sophisticated piece of theatre, with the help of the complex characters, the use of shadows and the delicate piano music (scored by Garth McConaghie) between scenes, a magic, cinematic, almost dreamlike experience is created that everyone can enjoy.'

Laura Caldwell

'Cahoots NI presented an intensely atmospheric play that had my daughter giggling one second and squeezing my hand in anticipations of danger the next. Every element of the production team was on point. Loved it. I urge you to go see it.'

Gerard Brennan
'…Levin's experience has now been expanded and transformed into an inspirational piece of theatre by two gifted professionals who understand instinctively how to capture, hold and ignite youthful imaginations. Cahoots NI artistic director Paul Bosco McEneaney came across the story of Levin/Nivelli in one of the mountain of magic books that he routinely devours as part of his daily fare. He showed it to the award-winning writer Charles Way, whose play A Spell of Cold Weather was produced by Cahoots in the spring of 2012. The two have since developed a close mutual simpatico, here manifesting itself in a skilfully structured and layered script, which will appeal to audiences of all ages.
We thought we had seen something approaching theatrical perfection last year in the shape of Cahoots NI's Egg. Then came Death, Duck and the Tulip. Now we have Nivelli's War. This is world class work being produced right here in Belfast.
Following its recent run at the Belfast Children's Festival, the show is scheduled for a short tour of Ireland. But it is crying out to be seen in countries far from here, where the quality of production and the impact of content upon young imaginations can be recognised for their universal significance.' Jane Coyle